Back To Menu
Regular Plate Lunch
Choice of Meat: Kalua Pork, Teriyaki Chicken, Teriyaki Beef or Chicken Katsu

Served with Two Scoops Rice, Macaroni Salad, Lumpia & Crab Puff
Choice of Meat:
Teriyaki Chicken
Teriyaki Beef
Kalua Pork
Chicken Katsu
Chicken Katsu Curry
+$1
Chicken Katsu Gravy
+$1
Island Chicken Wings (BBQ Lava, BBQ Pineapple, Garlic Teriyaki
+$1
Lechon Kawali (Fried Pork Belly)
Grilled Salmon
+$1
Have you tried this item? Pop it!
Help other diners know what to expect by sharing your experience.
7 people have popped this item
Photo Gallery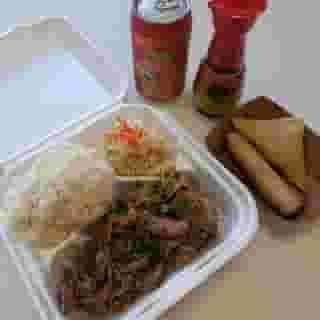 Back To Menu
Regular Plate Lunch
Choice of Meat: Kalua Pork, Teriyaki Chicken, Teriyaki Beef or Chicken Katsu

Served with Two Scoops Rice, Macaroni Salad, Lumpia & Crab Puff
Choice of Meat:
Teriyaki Chicken
Teriyaki Beef
Kalua Pork
Chicken Katsu
Chicken Katsu Curry
+$1
Chicken Katsu Gravy
+$1
Island Chicken Wings (BBQ Lava, BBQ Pineapple, Garlic Teriyaki
+$1
Lechon Kawali (Fried Pork Belly)
Grilled Salmon
+$1
  Back To Menu